A Look at Emerging Technologies in Commercial Real Estate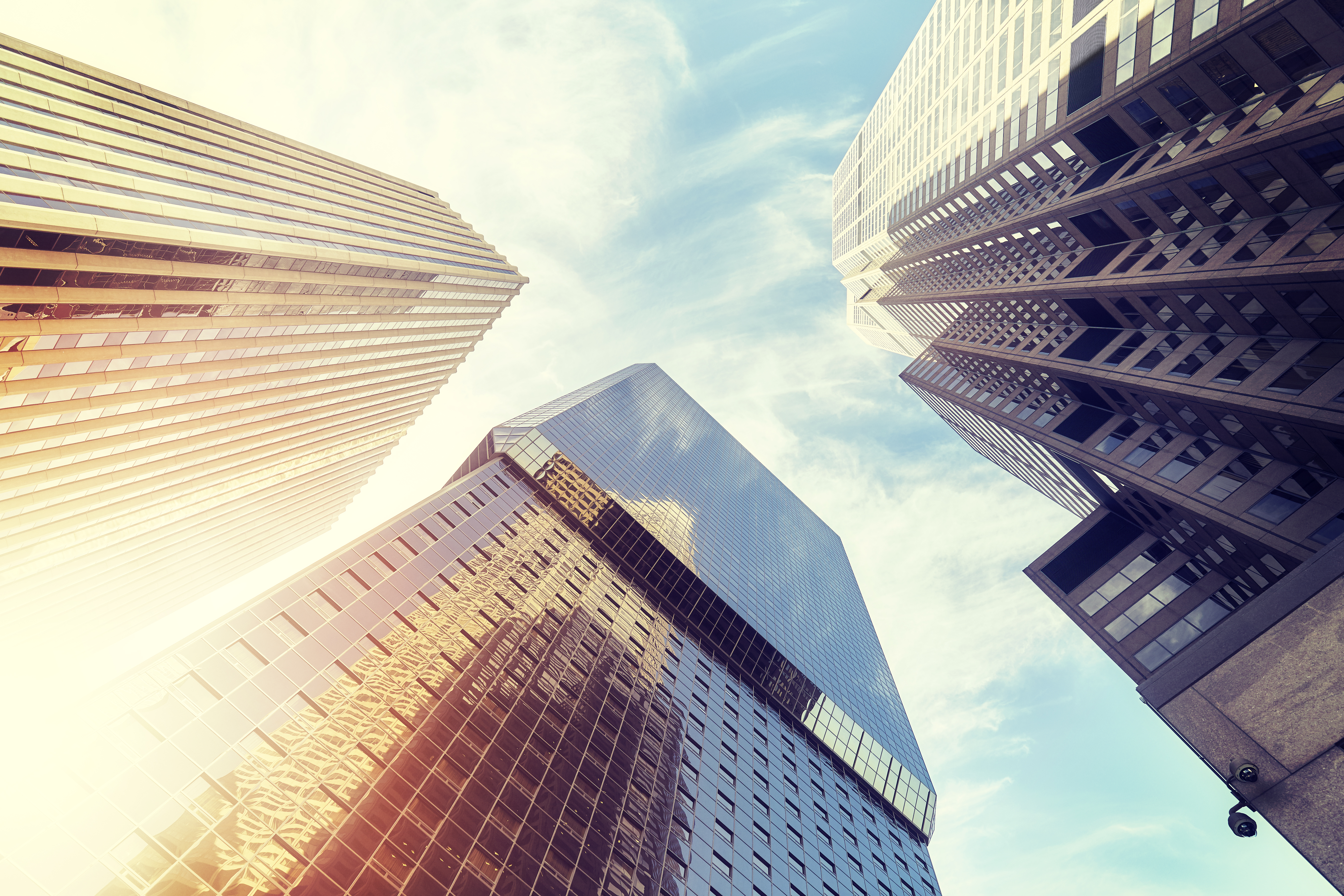 There's no doubt the COVID-19 pandemic has created an unprecedented shift in the commercial real estate (CRE) market. Sectors that were previously thriving, such as office and retail, are now navigating the challenges of being considered high-risk for spreading COVID-19. The pandemic has also bolstered some businesses, particularly online retailers, grocery stores, medical facilities and other essential services, prompting some to consider new measures to accommodate skyrocketing demand.
This evolving CRE market has created an opportunity for investors and CRE firms to explore solutions that can help increase productivity, reduce costs and minimize errors – especially those wrestling with liquidity and profitability. Technology adoption could play a key role in expediting those advancements and creating safer environments for employees and customers. Let's take a look at some emerging CRE technology trends.
Artificial Intelligence & Robotics
Artificial Intelligence (AI) uses algorithms and data to help machines, including robots, mimic human-like behavior, logic and analysis. AI has the ability to automate tasks, solve problems, predict outcomes and generate solutions. Incorporating AI into the management and operation of CRE properties can reap substantial benefits, some of which include:
Property management: AI technology can be utilized to conduct a wide range of property management tasks, from scheduling tours and processing tenant applications to facilitating maintenance requests. It also has the ability to collect data over time in order to predict property performance, tenant behaviors and project development. The use of AI, together with the Internet of Things (IoT), can create smart buildings allowing remote access to operational systems including HVAC, lighting and security. AI has the potential to improve building performance, maximize occupancy and increase tenant satisfaction.
Health and safety: AI sensors placed in windows, doors and HVAC systems can help detect the presence of airborne pathogens, potentially reducing the spread of airborne-related infectious diseases. AI thermal screening also makes it possible to detect elevated body temperatures (a key symptom of COVID-19) in a contactless way. Security surveillance can also be enhanced by incorporating AI security measures such as real-time security alerts.
Dynamic growth: Basic labor functions, such as lifting, moving and sorting inventory can be performed by industrial robots 24 hours a day, seven days a week, without risk of human error, exhaustion or injury. This is particularly important for managing warehouses and fulfillment centers, which are increasing in number as consumers increasingly shop online. The construction industry is also exploring robotic technology in property development and its impact on productivity and efficiency, which could directly benefit CRE developers and investors.
CRE firms can leverage the many benefits of AI, but not all businesses are convinced. According to Julianne Heller, Data Scientist at the National Association of REALTORS®, "Some companies avoid using AI because of the perceived costs and resources required to use it, a lack of trust in AI products, the difficulty in explaining what it does behind the scenes and a fear of an AI takeover related to job displacement." AI technology may be too new of a concept for some, but others consider the predictive data it brings to the table the perfect formula for making informed decisions – especially during times of uncertainty.
Virtual and Augmented Reality
Virtual reality (VR) uses technology to create a simulated experience in an artificial environment, while augmented reality (AR) places computer-generated information into a real-world environment. For the most part, VR is accomplished with the use of a headset, while AR uses a headset and an application from a phone or tablet to introduce objects, sounds and text into an existing environment. When it comes to designing, marketing, leasing and maintaining commercial properties, VR and AR have the potential to make a significant impact in many ways. Let's review a few:
Marketing: According to the National Association of REALTORS®, 83 percent of buyer's agents find that staging a property makes it easier for their client to visualize it as their own. Commercial properties are most often viewed empty, making it hard for buyers to visualize how to utilize the space. Virtual staging is an efficient and cost-effective way to show its potential. Using VR and AR, a vacant property can be transformed into a space that fits the needs of the prospective buyer: a cozy restaurant with an outdoor patio, a high-end clothing boutique or a product warehouse.
Inspections and Appraisals: Through the use of AR and VR, developers, CRE firms and property managers can conduct simulated tours and inspections with anyone in the world. On-site appraisals have been difficult to conduct since the onset of the pandemic. To meet these challenges, federal bank agencies issued an interim rule deferring certain appraisals through the end of 2020, while approving alternatives such as bifurcated, hybrid and desktop appraisals for others. VR and AR were valuable tools to assist appraisal management companies during those efforts and may continue to be for appraisals moving forward.
Maintenance and Service: VR and AR offer maintenance technicians the ability to review and troubleshoot problems before arriving to a property. Technicians are able to practice performance tasks, any number of times, with no risk to the property or danger to tenants. Once onsite, technicians can access information hands-free and order required parts straight from AR-enabled tools. VR and AR can save technicians and property managers time and money, while limiting in-person contact.
While there are great benefits to using VR and AR technology, it's still relatively new. Testing and fine-tuning are still underway for many software and hardware features. Also, its novelty and complexity can make it relatively expensive. Depending on the project, vendors can charge anywhere from several thousand to hundreds of thousands of dollars. There are also intellectual property, data security and privacy matters that must be considered.
Unmanned Aircraft Systems (Drones)
Over the past several years, we have seen a rising awareness and availability of drones. According to the Federal Aviation Administration (FAA), there are over half a million commercial drones currently registered, a number projected to rise to 858,000 by 2024. Drone technology has become an effective tool for developing, marketing and maintaining commercial properties. A drone's ability to capture aerial footage allows CRE professionals to showcase listings in a detailed, unique and cost-effective way. The high-resolution imagery can also be used to create interactive maps that include detailed property information such as boundary lines and flood zones. A drone's small size and infrared camera options also make it a great resource for inspections, particularly for hard-to-reach spaces such as attics, roofs and crawl spaces.
The FAA treats drones as aircraft, and therefore requires pilots to adhere to FAA regulations regarding certification, operational limitations and safety standards. State and local governments also play an important role, particularly governing the laws of trespass, nuisance and privacy. As drone technology advances, and the need to mitigate health and safety risks increases, some municipalities have adjusted regulations. For example, the City Council of New York City, which once prohibited the takeoff and landing of drones over city streets, recently passed Bill Int. 1853-2020, approving plans to study the safety and workability of using drones to inspect building facades for damage. Other metropolitan areas are more than likely to follow suit.
Outlook
Historically, CRE has been slow to embrace technology. Today, however, the adoption of emerging technologies is progressively reinventing the industry. It's helping professionals stay organized, streamline workflow and optimize data. In light of COVID-19, technology has also been a saving grace in detecting building vulnerabilities and mitigating health and safety risks.
Whatever your strategy for navigating these changing times, Surety Title is here to provide the right title and settlement solutions for a successful transaction. For more information about the products and services available for your next commercial transaction, visit our Commercial Services webpage, or contact your local Surety Title representative today.